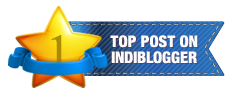 Image: google


Book:
India Unlimited, Stories From A Nation Caught Between Hype & Hope
Author: Kulpreet Yadav.
Publisher: LiFi Publications.
Genre: Fiction/Short Stories.
Pages: 198.
Price: Rs. 190.
Rating: 4 out of 5.
India Unlimited
, an anthology of 31 short stories, seizes your senses with its simple yet potent writing. The stories capture the reader's attention and wakes up a hunger to read more.
Yadav
, who has been published in several National and International Literary Journals-
the featured stories are part of this compilation
, with his penchant for detailing, styles the little elements by lacing the words lavishly.


To give you a glimpse of the author's crisp artistic use of words, here are a few excerpts from
"Faking It at The Conference"
and
"Samir in Rain"
:

"The air-conditioned space I was locked in, along with about fifty others, tasted and smelt of words bouncing off the walls,rolling down gently here and there, before giving place to a just-arrived batch of fresh boring words."
"
The sky was the last to give in to the urge, and it did with palpable vengeance, sending silvery cracks in the dissipating blue-black of the dusk."
The amalgamation of these short stories is a voyage that takes you to sundry sides of
India
, showcasing characters from a beggar to a wicked spiritual leader, from a spy to a man who talks to a fish, from a prostitute to an old lover. The diversity of these stories, the salient delineation of characters with the use of short sentences intermingled with lengthy ones along with simple still striking narration makes India Unlimited stay with the reader. Such diversity makes one wonder whether the stories are penned by the same author.
Picking favorites from such a collection is tricky, however, here are five of my prized ones:
Not the Only Peanut Seller Who

Hasn't

Heard of Osama Bin Laden.

The Family of Stars

The City of Mirrors

The Sahib and the Siesta

The Fish and My Wedding
With his keen annotations on daily life, Kulpreet Yadav presents a set of fictions to cherish. You will adore a character, detest another, love a story, and dislike another but India Unlimited will adroitly hang about with you and you will pick it up again for an unlimited passage of the both known and unknown
India
.
I thank

Kulpreet Yadav

for letting me an opportunity to read and review the compilation of his wonderful works,

"India Unlimited"

.