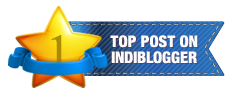 Author : Vipin Behari Goyal
Page
s : 152
Price : R
s.
240
Publi
shers : Cyberwit.net
Rating : 3/5

Shadows we know are dependable creatures. Light is what they depend upon. They flicker, they skim, they behave in accordance with the manner the light falls upon its owner. Except the shadows of human souls that form or change in accord with their actions or thoughts is difficult for us to gauge. Or is it?

"What men call the shadow of the body is not the shadow of the body, but is the body of the soul." -- Oscar Wild.

Tall Man Small Shadow, a short novel, has an unconventional theme by the debut author, Vipin Behari Goyal; a financial advi
sor by profession in Govt of Rajasthan.
(
The theme, here, garners an extra .5 from me
) The plot showcases how every character is entwined with each other either through manipulation or coincidence.

The protagonist
Salil
falls for the shadow of his pretty neighbor Aalya, a PhD
student. Aalya
gets into a lesbian relationship with her guide,
Seema
who
i
s childless and lonesome wife of an artist.
Further the shadow uncovers many aspects of life and the book progre
sses.
These and other characters, Aalya'
s parents and Seema's husband,
struggle through their frenzied lives and in the end resolve for a harmonious life.
But
w
a
s
i
s all coincidence or a well thought out plot?
Tall Man Small Shadow
is about how craftily the harmony is achieved.

The writing is simple yet crisp but, at times marred by lack of proof reading. The narration flows gently with occasional babbles. What impairs your reading the most here is the use of multiple voices within one chapter, and it happens through out. Its a small novel more like a novella and can be read at one go. The cover of the book works well to grab one's attention.

This could have made an exceptional read with stronger plot and characterizations along with good editing. Nevertheless, it ends up being a light read with philosophical tone and coincidences woven together.



Thi

s review is on request by the author. I thank him for choosing my blog as a platform for his book.