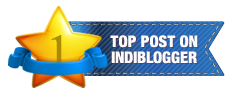 Author : Pankaj Mi
sra
Page
s : 316
Price : Rs. 425
Publishers: Power Publishers
Rating : 3/5


To blend hi

story and fiction i

s

tricky and to achieve a

success out of it is even trickier. The Tales Pensieve listed The Himalayan Revelation and attracted by the book's historical-thriller theme, I immediately right clicked the mouse and chose the book to review. I wasn't disappointed; it's a good read, one that I couldn't put down. Though I wish I could have said "extraordinary".

Debut author Pankaj Misra, knits a Historical-Thriller from the memories and research gathered from his exploration over the years.
Protagonists Gaurav and Natasha find themselves in a project to digitally recreate a historical site for the tourists. The research

for the same takes them to Hampi. They discover that Hampi might be connected to Leh. The adventure ascends from there and many secrets lie before them ready to get revealed.



Nuance

s of the history could have been worked upon little more to emerge the reader into the tome.
For instance in the second chapter, "…Rama Raya to his credit, suspected that something fishy was going on around him, called a meeting of his generals."
Here, what makes Rama Raya suspicious of anything odd, given that the later incidents show us a fierce war, is not clear. A few grammatical slips make their cameos which are passable given the ride is fun.

The maps that occasionally feature in the book add to the historical value of the novel. Misra's language is simple and quite good, and doesn't hinder the reading though, a few chapters present themselves as dissertation on history. It could have been more interesting if the past was described in literary style. And the thriller aspect was faint which makes The Himalayan Revelation more Historical than a Historical thriller.

However, a very good attempt by the debut author and I would recommend it if history interests you.