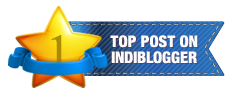 The Establishment, The Challenger.
Title : Beaten By Bhagath! A Tale Of Two Writers.
Author : S.V. Divvaakar.
Pages : 191
Publisher : Frog Books/ Leadstart Publishing Pvt. Ltd.
ISBN : 978-93-82473-03-9
Price : India Rs. 125/-; Elsewhere US $5
My Rating : 3/5
"He was now the establishment, and I was the challenger."
Often we wish we could take on the world with our passion and not with our 9-5 job. Many of us do follow the dream to make it a reality. Success, though, comes to not many.
"Beaten By Bhagath"
is about a man's passion to make it big with his writing, albeit a result of his ego and encouraging line from his sexy lady boss, he wants to overthrow the big name K-10; a celebrity author and his friend. Its about the dramatic roller-coaster ride of a debutante writer and his book.
The Plot:
S.V. Divvaakar
takes you on a journey of a man who wants to dethrone his ex-roommate, an old friend who is a star writer and has ventured into many facets of life, enjoying success everywhere. It gives you a glimpse of the path that one has to tread to publish one's debut book. It talks of changes that come by in life when a writer is determined to reach maximum of readers as soon as possible beating the reigning best selling author. The changes grill him, and brings out the worst of him. As you progress further with the story, you experience BB's passion...his challenges... his judgement... his realizations, along with fate of his debut book.
What exactly does a novice BB do? Does he find success? Do the friends meet? ...
The Characters:
Not many main characters to talk about. Except BB rest make it in short sketches, including K-10. The main character BB is perfectly flawed. BB made me smile, there was a moment when he disgusted me, some of his decisions disappointed me, he made me want to lecture him on a few occasions. All in all, I enjoyed BB's faults and flips. K-10 through BB's eyes introduces his intelligence, his determinations, his wisdom. I secretly wished to know K-10 more.
My Experience:
There were times I flowed with the lucid narration while other times I went against it. However, I wished
hinglish
didn't make its cameo; I am not much of a fan of it. I loved the candid take on the current variety of books that are in fad.
Divvaakar
aptly points the reason for the new generation writers opting for
very plain conversational style.
As we see K-10 declaring that he doesn't
want to write books that
people can read only with a dictionary by the side.
He wants
to connect, not to overwhelm.
The little details that penetrated my mind through the chapters held my attention throughout.
Its a fine read with good insights on the publishing world. Grab your
"Beaten by Bhagath"
if you are toying with the idea of publishing your (debut) book, and even if you aren't, go ahead... pick your copy, it has a few lessons of life to learn as well.
-Namrota Mazumdar.
[
tocoffeebeans@gmail.com
]
***

This review has been written as a part of the Book Review Program for

The Tales Pensieve***